5-Axis Mill-Turn Centre is Versatile Alternative to a Driven-Tool Lathe
Posted by

Alison Blackmore

On 18.10.2018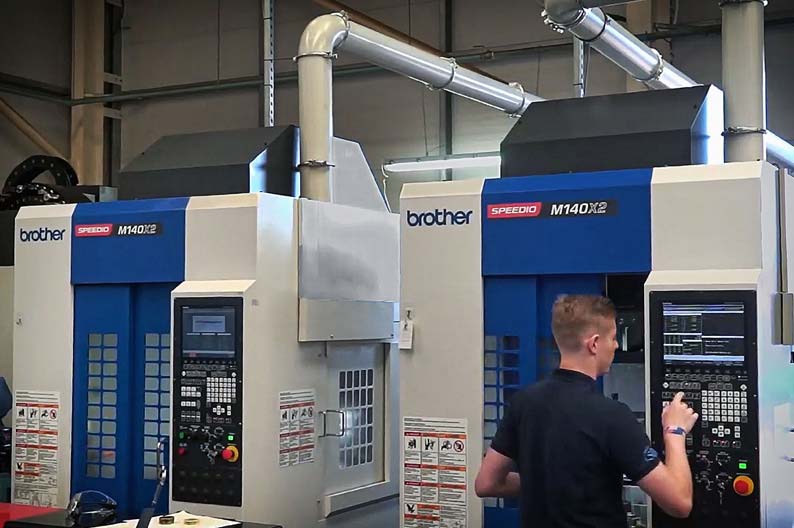 Tony Bess, director of subcontract machinists Plalite Ltd in Sittingbourne, Kent, has in the last three years invested £1 million in capital equipment. Included in the purchases were two Japanese-built Speedio M140X2 30-taper mill-turn centres from Brother, supplied by sole UK agent, Whitehouse Machine Tools. The first of the 5-axis machines was installed in mid-2017 and proved so successful that a second was added six months later.
Plalite undertakes a lot of work requiring both milling and turning, so the multi-tasking capability of the M140X2s was attractive, as was their compact footprint on the shop floor. Mr Bess said, "On the Brother machines, the number of operations needed to produce a part is minimised, there are no concentricity issues, blending is perfect and the tolerances we are able to hold allows us to quote very accurate work."
Short setup times using milling cutter back ends and the adoption of Lang zero-point quick-change chucks help to maintain profitability by allowing the machines to be changed over quickly, which is especially important when producing components in small batches.
When asked why he bought machining centres with turning capability, rather than bar automatics having live tooling, for one-hit production of what are often predominantly rotational parts, Mr Bess commented, "With a turn-mill machine you get low milling capacity and a limited number of tools - compared with the 22 stations in the Brother turret - added to which driven tool heads on lathes lack rigidity, which tends to cause vibration.
"With a mill-turn machine you get quick, very productive prismatic machining capability, all the tools are in taper holders that are much more rigid, particularly with simultaneous face contact in the case of the M140X2 spindle, setup is a lot quicker and we suffer no issues when trying to hold tolerance.
"There are few restrictions on turning capability, as the direct-drive C-axis accelerates in a third of a second from zero to a maximum of 2,000 rpm, which is a third the speed of a typical lathe but sufficient for many of the jobs we produce. If higher revs are needed for turning a particular component, we simply put it on a lathe instead."
The relatively limited turning speed is more than offset by high dynamics in other areas, notably the 16,000 rpm BIG Plus face_and-taper contact milling spindle with 0.2 second start/stop time, 50 m/min linear rapids and tool change that is so fast that it is difficult to observe at times, according to Mr Bess.
He concluded, "We engineer parts differently for production on the M140X2s to optimise productivity. Cutting strategies are altered and milling routines adapted, with more trochoidal milling for example, when a machining centre is used rather than a lathe.
"Provided it is the right kind of mill-turned part, each process route is highly productive on the two Brother machines, making us more competitive. We have certainly won new work on the basis of buying them."
Read More
Read Less
Back to news
To discuss your next project call us now. 01795 476367